What is Silk Bedding Made Of?
Sleeping on silk bedding is a luxurious experience. Silk bedding is soft yet supportive, and it creates a soothing surface that cradles your head with the perfect amount of giving. Silk bedding is lightweight and temperature regulating, which makes it a great choice for people with allergies or sensitive skin. Natural silk comes from silkworms, and 100% percent silk bedding is created by spinning silk thread into fabric. Silk sheets are one of the many bedding options available.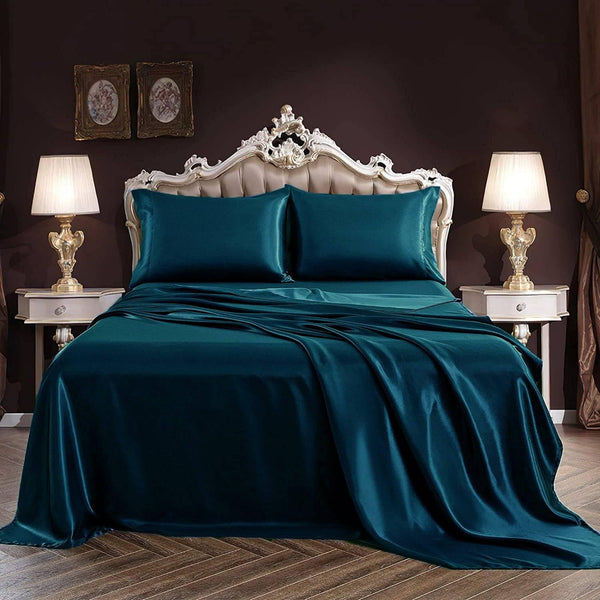 Why Should You Buy Silk Bedding?
Silk has long been revered as a luxurious fabric, and while silk bedding is a luxurious purchase, it's one that's actually beneficial to your health. Silk is a natural fiber that wicks away moisture. This means that silk bedding keeps you warm in cold weather and cool in warm weather, much better than cotton and polyester bedding. Cotton and polyester absorb moisture, which may lead to sweating, clamminess, and spreading bacteria, while silk keeps you dry and bacteria-free.
Advantage Of Using Silk Bedding?
You know that silk bedding is luxurious, but did you know there are health advantages to sleeping on it? Research suggests that silk bedding offers more health benefits than other sleep surfaces. Read these tips to find the best silk bedding for your needs. Silk Bedding and these sheets are a luxurious new way to stay cool while you sleep. If you want to boost your energy, Silk Bedding might be for you. Silk Bedding not only keeps you cool while you sleep but provides extra energy in your day. Silk is a natural energy booster.
Recommended Fabric of Silk Bedding
Mulberry silk nesting blankets are the ultimate in luxury bedding, and the silky smoothness of silk bedding is unmatched by any other material—even by the best Egyptian cotton. Luxury mulberry silk bedding is made from 100% mulberry silk, meaning that you can look forward to feeling every thread and enjoying the natural beauty of silk.
If you want silk bedding that's luxurious, natural, and breathable, consider charmeuse bedding. This unique silk fabric is woven from silk threads in a complex, symmetrical pattern that works to provide a soft, lightweight fabric that feels incredibly cozy and comforting. Charmeuse silk is favored for its breathability and moisture-wicking properties. The silk threads are woven in a crisscrossing pattern, allowing air to circulate through the silk. This air circulation helps keep you drier and cooler, so you'll never feel sticky, clammy, or uncomfortable when you sleep.
Chiffon is one of the most delicate fabrics in the world and is typically used only for formalwear or dressy tops and dresses. Chiffon silk bedding is created using a delicate silk thread woven into a fine mesh-like fabric that's very flowy. The chiffon silk is then woven and formed into sheets and pillowcases, which look incredibly elegant.
Conclusion
In conclusion, the fibers in silk have long been prized for their natural breathability and softness. But no one counted on that the way they bounce back and spring back into shape would make them an ideal material for pillows and duvets. So, the Mulberry, Charmeuse, and Chiffon fabric of silk bedding are chosen for their exceptionally plush feel.