How To Take Care of Silk Bedding
Durable silk bedding has always been a staple for hotel guests and travelers. But silk pillowcases, sheets, and robes are luxurious items that can be enjoyed at home. Silk is a natural fiber, which means its natural properties are the key to silk bedding's strength and beauty. Follow these care instructions to care for your silk bedding.
As a lover of silk bedding, I like to keep my products clean and smell fresh. Unfortunately, silk is a magnet for dirt and stains. To keep your silk bedding looking new, follow this easy guide.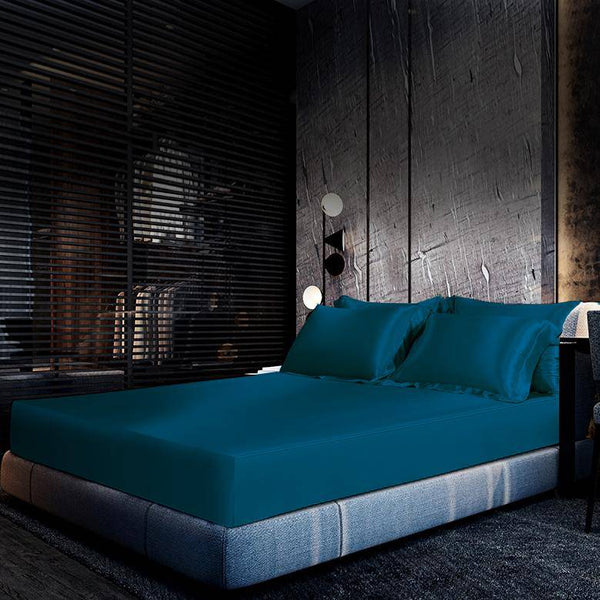 How to take care of Silk Bedding
Care for your silk bedding sets and silk sheets like precious gifts. You can dry clean your silk bedding if you have a busy schedule. Dry cleaning is the best way to protect your silk bedding from piling stains, odor, mildew, and dust mites. The idea behind dry cleaning is a gentle cleaning that preserves silk fibers.
Silk bedding is a luxury that is becoming more and more popular. People love its softness and the wide range of colors it comes in. To care for a silk bedding set will require Silk detergent. Silk is a delicate fabric that should not be washed in a washing machine. The detergent isn't as harsh as regular laundry detergent but will still clean your silk items.
Silk bedding is one of the most luxurious, high-end fabrics that add to the beauty of your bedding set. So, when you invest a lot of money to have silk bedding, the last thing you want to do is ruin them by using bleaches. Bleaches can fade the silk, making it look old and damaged. Use these tips to know how to take care of silk bedding and protect your bedding set investment.
All silk bedding should be washed separately in cold water and dried flat. These can be washed as often as needed, but washing too often can damage the silk fibers. With proper care, silk bedding can last for years.
While silk bedding is luxurious and desirable, it is still bedding at the end of the day. As such, it needs to be washed and cared for properly. Silk bedding is delicate and should not be thrown in a washing machine or dryer. Instead, dry silk bedding on a clothesline, hanging the pillow shams and duvets separately. The pillow shams should be hung from the bottom, and with pillowcases, be sure to tuck in the pillow and tuck the pillowcase under the silk itself. This way, the pillowcase will not pass any dirt or grit onto the rest of the bedding.
Conclusion
In conclusion, cleaning silk bedding with a mild detergent will remove the mineral deposits which attract and hold dirt. However, rinsing the bedding in clear water will allow the fabric to air dry. Most silk bedding should be dry-cleaned, but if it is washable, it can be washed in cold water and tumbled in the dryer.